Perfecting Pasta from Asian Hotel & Catering Times vol.58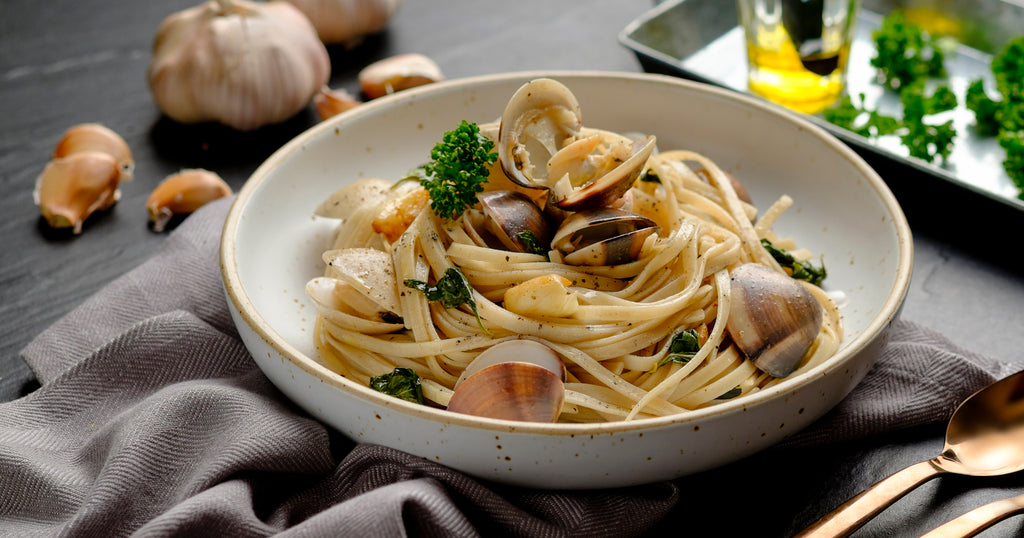 This year's 18th annual World Pasta Day falls on October 25, when the celebrations will be hosted by Sao Paulo in Brazil. While the festival is relatively new, pasta has been around for 4,000 years or more. And though it has changed little through the millennia, it is morphing to accommodate health concerns, writes Jane Ram
Traditional pasta is made with whole grain wheat flour, but it has long since become a generic term including all types of noodles (originally specifically made with  eggs). Pasta is a classic, inexpensive comfort food in virtually every culture. It is fairly stable to transport and store, easy and quick to prepare and extremely versatile. The traditional source is still Italy, but over 48 countries produce sizeable quantities of their own pasta products, with only the Philippines classified among major Asian players.
Pasta is the most popular item on the menus throughout the five Italian restaurants in the Hong Kong-based Divino Group, says corporate chef/owner, Michele Senigaglia. "Since I arrived in Hong Kong in 1998, locals have learned to enjoy pasta "al dente". Initially I received many comments and complaints that the pasta was hard or under-cooked. Among the bestloved pasta types remain spaghetti, in HK in particular, for their resemblance to the local noodles. Every country has some kind of favourite. Americans like macaroni and they have created their own way to serve it as Mac&Cheese." 
Not all Italians are happy with the internationalisation and diversification of their iconic ingredient. "If there's a dish that represents the worst worldwide forgery of Italian cooking, it has to be the so-called bolognaise," says Mario Caramella, president of the GVCI, (Virtual Group of Italian Chefs, which has over 2,200 associates working in 70 countries worldwide). Their site is the voice of a network of chefs, restaurateurs and culinary professionals working in the Italian cuisine industry outside Italy. "It's prepared out of the most bizarre ingredients, often with overcooked spaghetti, sold in a can; stuff that has nothing to do with genuine original tagliatelle al ragù," adds Caramella.
"Noodles are a staple in many Asian countries, from mie goreng in Indonesia, Malaysia and Singapore to la mian in China, pad thai in Thailand and Vietnamese pho. So it is natural Asian people also wanted to try Italian style pasta, which is similar enough to be familiar, but different enough to have an exotic appeal," says Karlheinz Ritter, executive chef restaurants and Paiza at The Venetian Macao. "While Chinese people at first targeted the classics such as spaghetti bolognese, carbonara, lasagna and seafood pasta, as they became better travelled and more sophisticated they began demanding more adventurous dishes, including pasta with braised octopus and bone marrow, with white or black truffle, with sea urchin, ravioli with pumpkin and sage, just to name a few."
A New Beginning
Richard Blossom started his gluten-free pasta business because his daughter is celiac and it was hard to find good tasting and healthy gluten-free food. He sells it through high end supermarkets in Thailand and Hong Kong under the Perfect Earth Brand as part of a social enterprise focused on the hill-tribe communities of Northern Thailand. "As we developed our pasta, our standard was not just to create a good gluten free alternative to regular products but to produce products that people would prefer over any alternative. We believe our pasta delivers on that without having to rely on starches. Our ingredients are as simple as can be: organic rice and organic chia."
Manufacturers and creative chefs are responding in diverse ways to the growing demand for novelty. Barilla, one of the world's largest dry-pasta manufacturers, is moving in new directions to compete with new fads and trends. The company has developed a 3D pasta printer, which can use fresh pasta dough to create customised shapes almost instantly. 
"Pasta is experiencing something of a new beginning, but it's more of a reinvention than a rediscovery," says Marc Heperin, resident F&B expert at QSR magazine. "There are two driving forces here: consumer interest in regional ethnic flavours, particularly Italian, and the popularity of culinary mash-ups."
"The age group that would appreciate pasta are health conscious, and the demand wanes with them, as they see it as a carb demon," says Mohammad Kunhi, executive chef AccorHotels Greater China "From what I have seen across China, it's still a trendy comfort food for casual gatherings."
Barilla Pronto is prepared in one pan, with no need to wait for water to boil and no draining required. Consumers are able to cook, then stir occasionally until most of the water is absorbed into the pasta and it is ready to eat.
Finger on the pulse
 "Chinese consumers are not into making pasta sauces," points out Ricky Xu, founder and publisher of Global Gourmet, China's most authoritative food-centred publication. "Cans of ready-to-use pasta sauces line the shelves with all sorts of flavours although red are the most popular."
Family-owned trading company Amson Ltd has offices in Hong Kong, China and Sweden. At the recent Hong Kong Food Expo the company experienced brisk sales of some of its types of Firma Italia flavoured pasta.
"Hong Kong people like seafood so calamari ink pasta and seafood pasta are popular," says Boris Lo, a company spokesperson. "Last year we introduced truffle pasta and that was a good seller. Some Chinese are lactose intolerant, but those who like cheese really enjoy our cheese flavours. Tomato may be traditional Italian, but it does not go well in Hong Kong. This is quick convenient food, but it is not like instant noodles – it needs to be boiled for about seven minutes before eating. Students love it!"
 Originally from Indonesia, but with extensive international experience, Indra Budiman, general manager of boutique luxury hotels Shinta Mani Angkor, Shinta Mani Shack and Shinta Mani Angkor- Bensley Collection, has his finger firmly on the pulse of Southeast Asian taste. "People tend to be more health-conscious these days and they tend to avoid pasta as they see it as super carbo food. Despite that I still like it and of course, the original one. These days our chefs need to prepare gluten-free, whole wheat or organic pasta to capture these niche markets.
He adds, "Some places tend to modify recipes to suit local Asian taste – in Thailand they eat tom yam pasta, in Indonesia it's rendang pasta, but I guess this won't capture much of a market share! Despite health fads, overall in Asian countries, the demand of pasta will increase as more and more people learn to enjoy it – but with a real Italian touch."
Column from Asian Hotel & Catering Times vol.58  October 2017