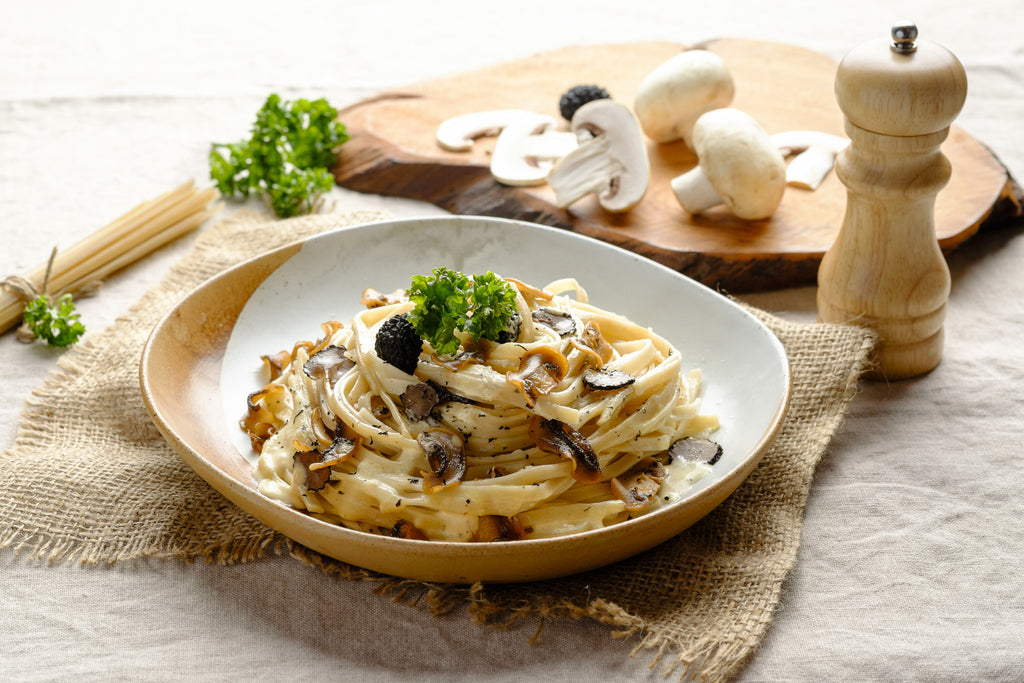 A simple and robust dish that allows the rich flavors to shine.
Ingredients
   50g  brown rice noodle
   ⅓ cup heavy cream
   20g unsalted butter
   1 cup chopped roughly chopped, mixed mushrooms (porcini, swiss brown, button)
   Sprinkles of truffle concentrate, truffle oil, or truffle
   1 garlic clove, minced
   1 tbsp  goat cheese (optional)
   8 ml olive oil
   Ground black pepper and salt to taste
   2 tbsp of roughly chopped, fresh flat parsley
Directions
Cook the pasta for about 7 minutes or until al dente. Stir pasta often to prevent the noodles from sticking. Drain, rinse with cold water, and drain.
In a frying pan, sauté the garlic and dice mushrooms over a medium heat in olive oil. Just as the garlic begins to turn golden, add the butter, heavy cream and goat cheese (if using.) Drizzle with truffle oil or add a sprinkling of truffle flakes. Add ground black pepper and salt to taste.
Add pasta and mix thoroughly.
Serve the pasta and garnish with fresh parsley.
Enjoy!