Perfect Earth's Nuddha Bowl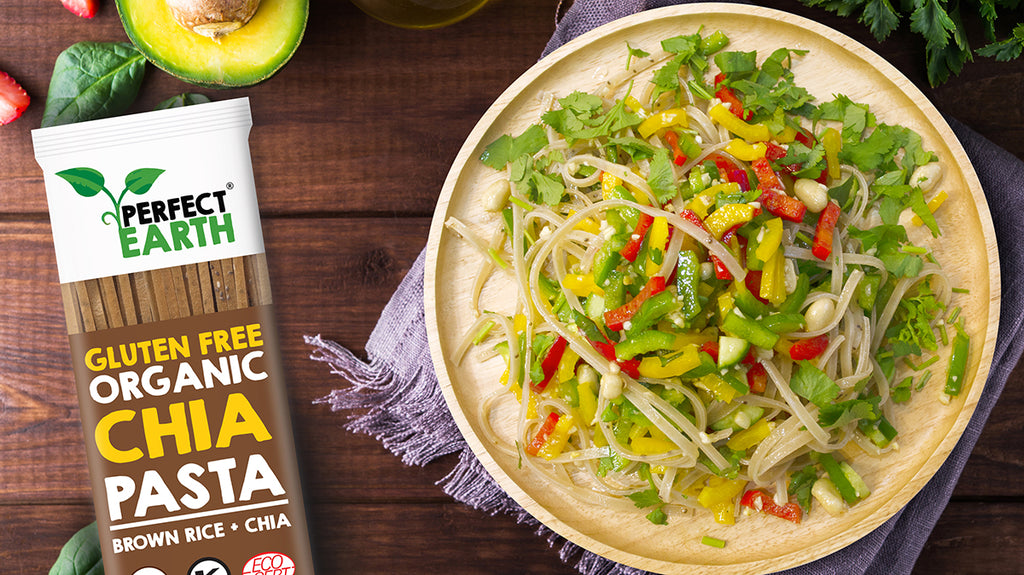 This healthy vegan pasta salad recipe was created by our Chef Prempak!
Ingredients Serves Four
225 g Perfect Earth Chia Pasta - Brown Rice
4 1/2 tbsp Lemon Juice
5 tsp Olive Oil 
40 g Cherry Tomatoes 
40 g Chopped Garlic
2 1/2 tsp Salt
35 g Sliced Cucumbers 
35 g Chopped Peanuts 
25 g Coriander, Chopped
Fresh Lime, Cut into 12 Wedges
60 ml Water
Directions
Bring 4 cups water to a boil. Add Perfect Earth Chia Pasta - Brown Rice to the boiling water. Stir Gently and cook for 8-9 minutes or until you reach your desired texture.
Rinse pasta in cool water and drain. Set aside in a large serving bowl. 
Mix the cherry tomatoes, cucumbers, chopped garlic and salt together and add to the pasta bowl. Then add the water and mix all the ingredients.
Make the dressing by combining olive oil and lemon juice, mix well.
Divide the mixture into 4 bowls and drizzle the dressing on top. Sprinkle bowls with chopped chilli, peanuts and coriander. Add 2 lime wedges. Serve immediately.