Perfect Earth's Blacksa (Laksa)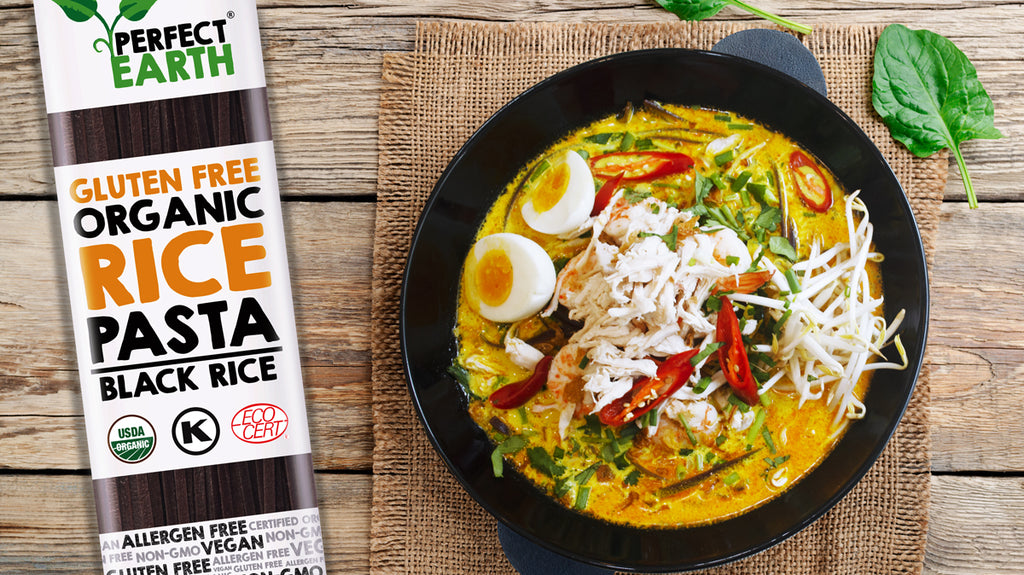 Blacksa (Laksa), the epic Singapore spicy coconut noodle soup, is a must-try at least once in your life!
Ingredients Serves Four
225 g Perfect Earth Rice Pasta - Black Rice
175 g Chicken Breast (boiled and shredded)
1 Egg (boiled and cut in half)
6 Shrimp
4 tbsp Oil
20 g Yellow Curry Paste
300 g Coconut Milk
15 g Ginger, Grated
3 tsp Turmeric Power
2 1/2 tsp Salt
2 tbsp Sugar
30 g Chives, Chopped
3 Red Chili, Cut Into Strips
30g Bean Sprouts
25g Coriander, Chopped
30g Fried Tofu Puffs
Directions
Directions
Gather pre-cooked chicken, egg and shrimp.
Bring 4 cups water to a boil. Add Perfect Earth Rice Pasta - Black Rice to the boiling water. Stir Gently and cook for 8-9 minutes or until you reach desired texture.
Rinse pasta in cool water and drain. Set aside.
Heat oil in a large pan over medium heat. Add curry and stir until aromatic. Pour in coconut milk and bring to a boil, then add ginger and turmeric powder. Add salt and sugar.
Next add chilis reserving some for topping (don't add any if you don't like spicy) and let simmer for a few minutes until everything combines well.
Remove from heat and add pasta and shrimp to pan and stir. Add Tofu Puffs.
Divide mixture into 4 bowls.
Top with egg, bean sprouts, chicken, chives, coriander and chili peppers.
Serve immediately.