Perfect Earth's Vindaloo Pasta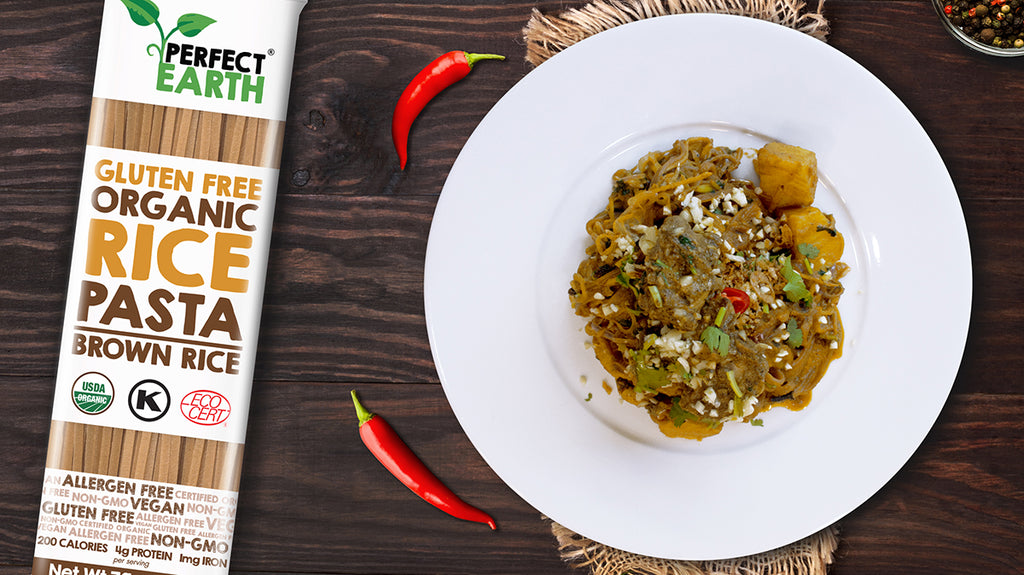 Perfect Earth's Vindaloo Pasta is delicious and vegan on its own but goes well with any protein if you prefer.
Ingredients Serves Four
1 Pack Perfect Earth Rice Pasta – Brown Rice (7.9oz or 225g)
5 tbsp Chopped Onion (75g)
5 tbsp Chopped Ginger (75g)
3 Cloves
5 tbsp Chopped Garlic (75g)
3 tbsp Cumin Powder (45g)
2 tbsp Masala Powder (30g)
3 tbsp Curry Vindaloo (45g)
1 Boiled Potato
1 ½ tbsp Mustard (22g)
3 tbsp Chopped Coriander (45g)
1 ¼ Cups Coconut Milk (320ml)
5 tbsp Oil (75g)
3 tbsp Sugar (30g)
2 ½ tsp Salt (30g)
Directions
Bring 4 cups of water to a boil. Add the Perfect Earth Rice Pasta – Brown Rice to the boiling water. Stir gently and cook for 8-9 minutes or until you reach your desired texture.
Rinse the pasta in cool water and drain. Set it aside in a large serving bowl. 
Boil the potato and cut it into cubes.
Put the oil in a pan on medium heat, add chopped onions, garlic, cloves and curry paste. Then stir fry.
Add ginger, salt and mustard and continue to stir fry.
Add the cumin powder, masala powder, potatoes and coconut milk togetherwith the Pasta and stir fry all together.
Season with salt and sugar and then serve, sprinkling coriander on top.