Angelina's Chicken and Tofu Soup with Brown Rice Pasta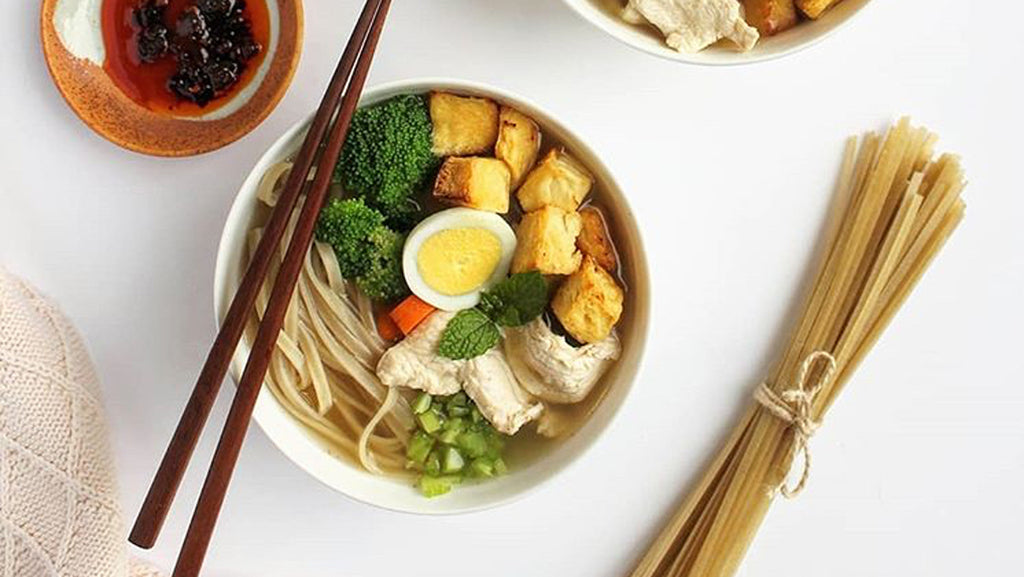 IG handle: @athleticrecipes
Ingredients
2 servings of Perfect Earth Brown Rice Pasta
1 chicken breast, sliced
14 oz firm tofu, cubed
1 cup broccoli, chopped
1/2 cup celery, diced
1/2 cup carrots, coined
2 eggs, hard-boiled, sliced
1 teaspoon salt
1 teaspoon black pepper, coarse
1/4 cup soy sauce
2 tablespoons oil, divided
1/2 cup mint, fresh
4 cups water
Directions
Air-fry cubed tofu with salt at 380 degrees F for 15 minutes, toss after 10 minutes.
Over medium-high heat, add 1 tablespoon of oil and sear the chicken breast slices until fully cooked. Place aside when done.
Steam broccoli, celery, and carrots [4-6 minutes].
Bring water to a boil and add soy sauce, pepper, and 1 tablespoon of oil, adjust by taste.
Cook PERFECT EARTH FOODS BROWN RICE PASTA until al dente. 7 minutes.
Evenly separate into two bowls, add toppings, and serve.
[optional] Serve with 1 tablespoon soy sauce and 1/2 tablespoon hot sauce mixture for dipping.