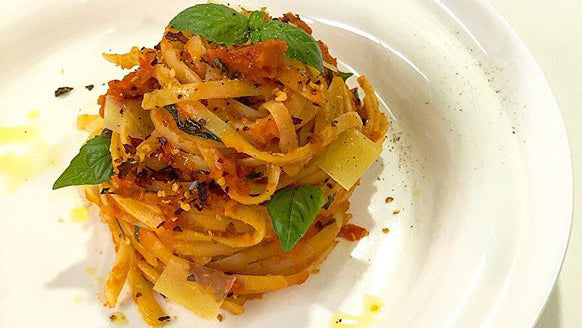 IG Handle: @ homecook.foodie
Ingredients:
1 whole red capsicum

2 large ripe tomatoes

1 large onion (peeled but not cut)

1 pkg Perfect Earth Pasta

1/2 cup basil + some for garnish

2-4 cloves of garlic

1/4 c shaved parmigiano reggiano

olive oil

chili flakes

salt & pepper
Directions
On a baking tray, (do not cut) roast first 3 ingredients at 180c for 15 mins. Transfer to plate and let cool. Remove all burnt ends and skin,

Cooking the #perfectearth pasta of your choice to slightly before al dente.

Blend half a cup of fresh basil with the roasted vegetables.

Sauté garlic (I prefer a lot) with fresh grounded black pepper (& chili flakes if you like spicy) and olive oil on low heat until well infused. Turn up to medium and add in the purée and add tomato paste and salt for taste (avoid adding any water)

Fold in pasta evenly and allow it to braise in the purée and cook further (while absorbing the flavors) until al dente.

Remove from heat and fold in some finely chopped basil, shaved parmigiano reggiano and Extra virgin olive oil.