Peter's Rice Noodle in Curry Miso Coconut Soup (Vegan)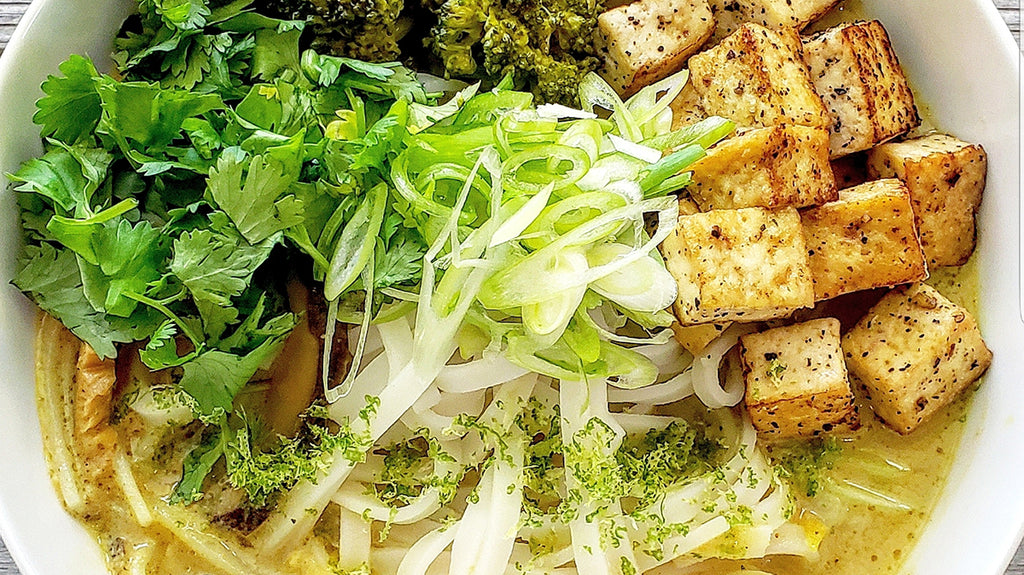 IG Handle: @plantbased_matters
Ingredients: (makes 2-3 servings)
1 Bag of Perfect Earth Organic Rice Pasta (Pad Thai)
For Curry Miso Coconut Soup:
2 cups vegetable stock
1 can (13.5 FL oz) coconut milk
1 cup shiitake dashi (see below)*
1 tablespoon canola oil
2 tablespoons ginger, minced
2 teaspoons garlic, minced
2 tablespoons miso paste
4 teaspoons curry powder
1 tablespoon (1 lime) lime juice
½ teaspoon sea salt
¼ teaspoon black pepper
4 caps re-hydrated shiitake, sliced
1 head broccoli, cut into florets
½ block extra firm tofu, pat dry then cut into ½ inch cubes
½ tablespoon canola oil, for pan-fried tofu
1 teaspoon garlic pepper salt seasoning, for pan-fried tofu (adjust salt to your tasting)
For Garnish:
½ cup cilantro, chopped
1 tablespoon (1 lime) lime zest
1 stalk scallion, thinly sliced
2-3 lime wedges
*Shiitake Dashi --- "dashi" means stock in Japanese
1 ¼ cups water, for soaking dried shiitake
4 caps dried shiitake
How to make Shiitake Dashi:
Clean (remove dirt or any particles) trapped between the gills of shiitake.

Soak the cleaned shiitake in water for a minimum of 3 hours up to overnight.

After soaking, trim the stem and gently squeeze the caps over the soaking water to reserve the 

water that was squeezed out.

Place a paper towel over a fine strainer. Pour the soaking water to remove any excess dirt. You 

should end up with about 1 cup of dashi (soaking water.)
Directions:
In a large pot, cook the rice pasta for 8 minutes. Transfer to a colander then rinse it under running water. Drain water very well and set it aside.
In a frying pan, pan-fry tofu cubes with canola oil over a medium high heat. Season with garlic pepper salt and continue to cook until golden brown. Take the frying pan off the heat and set it aside.
In a different pot, cook minced garlic and ginger with canola oil over a medium heat to avoid burning. Cook until fragrant.
Add curry powder then cook for a minute to release the aroma of the curry powder.
Pour in vegetable stock, coconut milk, shiitake dashi, lime juice, salt and black pepper. Turn up the heat to bring it to boil then turn it down to medium-low heat.
Dissolve miso paste into the soup then add broccoli florets, and sliced shiitake. Let it simmer for 5-7 minutes until broccoli is tender and also flavor comes together.
Transfer the noodle in a serving bowl then pour the soup over.
Place the pan-fried tofu on top of the noodle.
Garnish with cilantro, lime zest, scallions, and squeeze more fresh lime juice.